According to the general structure of the chain, and taking full account of the actual situation, the front end design adopts network camera, audio, video, images collected by network camra are sent to the local PC through router, which from a local area network (LAN) system, real-time, video, and convenient retrieval playback can be done in this LAN.
Small figure as follows: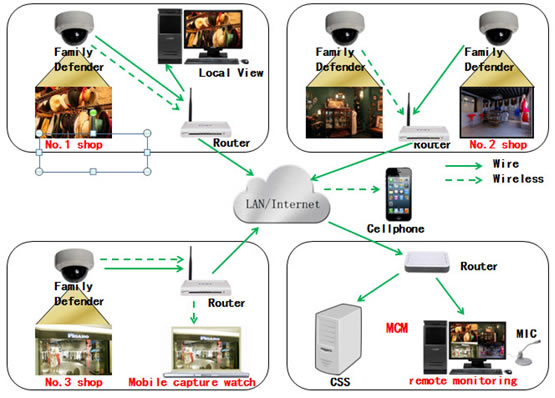 Remote viewing way: front-end network
Audio, video, image will be sent to the Internet through router after digital compressed by video camera, and then realize the real time watching, video playback, management and retrieval through the remote PC. Users also have remote access to the video through the mobile notebook, you just need to enter the IP address of the corresponding implementation, and you can see the video through the phone in anytime and at anywhere. Backend display centralize various branches of the scenes together by management software, each page can access up to 36 images at the same time, which could facilitate users to centralize monitoring, management and operation.
Centralized management interface is illustrated as below: