The program adopts high definition, intelligent, networking, 3G application technology comprehensively, in the "standardization, integration, intelligent" design principle and coal mining business process integration, visualization business management, applicable to coal mining enterprises to carry out the jurisdiction mine management scenarios.
2.

Background and challenge
Coal was widely used since the eighteenth century, it has became one of the non-replacement sources of energy in the human production and living. As most of the seams are away from the surface, requires the use of underground coal mining approach. Once occur the coal mine accident, it will cause a lot of personal injury, property damage, how to protect the coal mining and production safely and effectively,
has become the focus of attention.
Stage video monitoring system faces major problems:
A. Poor application results - monitoring point image resolution is low, only to solve the "able to see" problem, unable to meet the "clear look" requirement.
B. Less security integration - mine video surveillance system and other security guards system is mostly run independently, lack of good linkage mechanism, the entire security system seemed huge and dispersed.
C. Difficult networking - the video monitoring system is mostly achieved only mine Intranet in the coal industry,, as a wide range of field devices, some of the equipment on the platform has been unable to provide an interface development package when access for some reason, while the outlet network situation is complex, private network and public network access coexist, only a small number of local areas was able to achieve the mine access.
D. Difficult maintenance – After part of the system interconnection, the operation and maintenance workload is huge and difficult to detect when facing a huge number of video surveillance equipment, tend to make machine fault not deal with timely, making the use of video surveillance greatly reduced.
The whole system is structured as follows: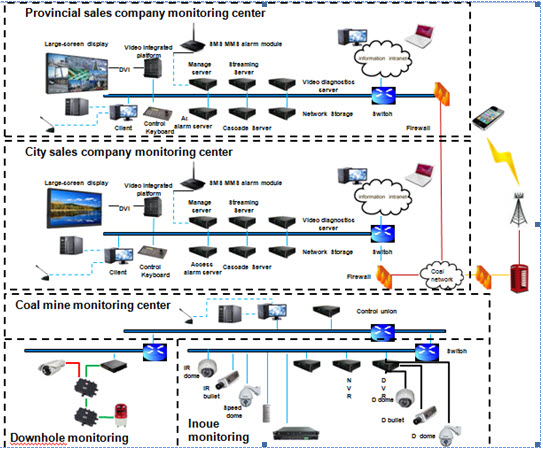 Digital video monitoring system of coal mine comprehensively adopt high definition, intelligent, networking, 3G application technology, in the " standardization, integration, intelligent" design principles and under the guidance of industry, the use of standardized products, to achieve the following functions:
Multiple Video Surveillance: Supports high-definition video surveillance, intelligent video surveillance, mobile video surveillance, raise the overall level of video quality and security;
Assist System Integration:
realize the integration of video surveillance, environmental monitoring, security alarm and intelligent control subsystem, each subsystem based on plans for linkage;
Stereo Regulatory Approach:
achieving front, county, city three
vertical regulation, C / S, B / S mode are used for visiting by fixed network, mobile network through handheld management terminal
( mobile phone, tablet, etc. ) for monitoring;
System Operation and Maintenance Management: IT infrastructure management, video quality diagnostics, bandwidth optimization and control, asset management, log manageme.
System Features
A Access and integrate downhole environmental data,achieve management and presentation of panorama data, and some of the environmental alarms for video review;
B Deploy human traffic statistics system in the mine entrance, record daily out of the mine workers, once found out who is inconsistent, once finding out who is inconsistent, inventory, verification and rescue can be expanded timely;
C Achieve butt of mine entrance weighbridge systems and video monitoring system, weighbridge weighing data can be superimposed on the video screen, real-time, not only prevent damage to the interests of enterprises insiders estimated cost less, but also can prevent overloading phenomenon overweight.