Ⅰ. General situation
The construction include nine stations, a command center, nine stations were installed at nine watchtowers in the forest, due to the location of the command center which lies in the valleys, a relay towers needed for transfer, towers which belong to the operators can be used instead of the relay tower.
Ⅱ. System construction solution
1. System of scheme
The whole system consist of four parts,
the front base station
acquisition part
,Wireless microwave transmission part, the command center part and system security part.
2. The equipments of front base station acquisition part
The graph is scenery complementary power supply method
The front base station is mainly composed of power supply system, video information collection system, wireless microwave communication system, grounding lightning protection system, this part mainly introduces the base station acquisition part.
It mainly consists of a video camera, the electric zoom lens, shield, waterproof control box (internal integration: video processing module, intelligent processor, remote control module, the intelligent data acquisition module, the industrial Ethernet switch, etc., and the reserved space to place the POE module, etc.), digital PTZ , etc.
3. Wireless microwave transmission parts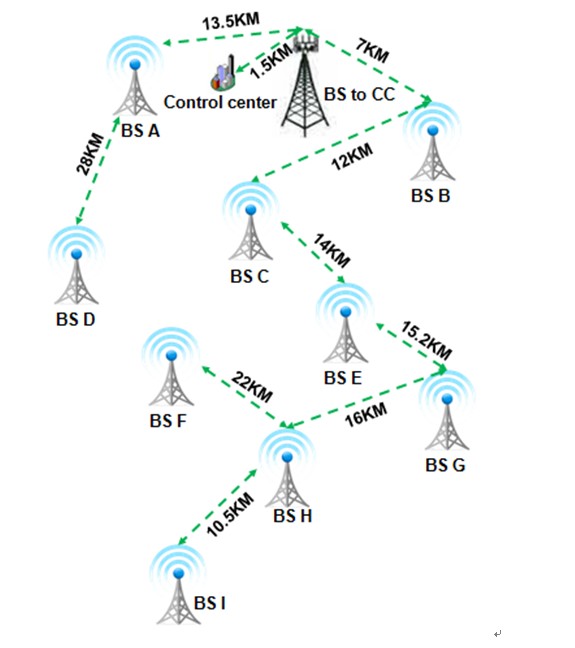 3.1. wireless communication configuration
| | | | | |
| --- | --- | --- | --- | --- |
| NO. | Installation Site | Type | Amount | Antenna |
| 1 | base station A | ALC5801 | | 30DB parabolic antenna |
| 2 | base station B | ALC5801 | One pair | 30DB parabolic antenna |
| 3 | base station C | ALC5801 | One pair | 27DB parabolic antenna |
| 4 | base station D | | One pair | 30DB parabolic antenna |
| 5 | base station E | ALC5812 | One pair | 30DB parabolic antenna |
| 6 | base station F | ALC5812 | One pair | 30DB parabolic antenna |
| 7 | base station G | ALC5812 | One pair | 30DB parabolic antenna |
| 8 | base station H | ALC5812 | One pair | 30DB parabolic antenna |
| 9 | base station I | ALC5812 | One pair | 30DB parabolic antenna |
| 10 | base station J | ALC5812 | One pair | 30DB parabolic antenna |